Call for Panels: SIEF 2015 in Zagreb (Croatia)
The SIEF organizers have just opened their call for panels. The theme of the conference is 'Utopias, Realities, Heritages. Ethnographies for the 21st century'. Application deadline will be the 9th November.
Estimated reading time: 2 minutes
The SIEF ("International Society for Ethnology and Folklore") organizes a large congress every two years. Their next conference will be held in Zagreb, Croatia (21-25 June 2015). Its theme will be "Utopias, Realities, Heritages. Ethnographies for the 21st century". You can find the full discription of the conference's theme here. To briefly quote the organizers:
"The congress theme takes the triad of utopias, realities, and heritages as a challenge and seeks to relate it to the ethnographic study of expressive culture and everyday practices: from religion to politics, from heritage to spatial imagination, from the physical to the virtual, from narrative forms to the food chain, from music to the museum, and from nationalism to tourism. [It] brings into focus discourses and practices of utopia and heritage, from times past and present […]:
How do utopian visions, realities, and heritages materialize?
Where do they circulate?
How are they narrated, envisioned and practiced?
What place do these have in the heritage imagination?
And how do heritage and utopia inform our understanding of daily realities here and now?"
Your panel proposals must include:
the title of your panel
the name and email addresses (of all panel convenors)
a short abstract of <300 characters
a long abstract of <250 words
Additional information (panel rules, different congress formats, timetable, etc.) can be found at the official SIEF website. The call for panels closes on 9th November.
Your application should be send to congress@siefhome.org. Decisions over the panel proposals will be made by mid-November.
Important: Convenors of accepted panels are obliged to be members of SIEF for 2015!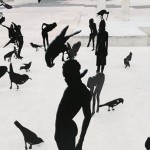 TRANSFORMATIONS is a medium through which dedicated and critical anthropologists put their thoughts, experiences and research insights up for discussion using a full range of digital opportunities including text, images, audio and video. We connect our research with themes of a broad public relevance, while also making the personal and often emotional act of research in social and cultural anthropology accessible to a wider audience. We aim for a creative, rich and accessible style of writing that is easy to understand, so that we can put people and their life-stories into the spotlight.




Did you enjoy reading this? Share it with your social network.