CfP: "Doing ethnogr@phy in hyper_mobile fields: Methodological challenges"
We invite paper proposals for a panel at the "Networked Urban Mobilities" Conference in Copenhagen (5-7th of November 2014).
Estimated reading time: 3 minutes
Mobility is one of the central terms of modernity. Looking back in history, people and goods have always been on the move. But this age of "networked urban infrastructures" has a new dimension that one might call "hyper". Mobility is not only increasing in scope, but also increasingly "offline" (multi-sited) and "online" (virtual-spaced) at the same time.
Today, "virtual" and "analog" realms constantly refer to each other, connected through highly mobile urbanists (e.g. activists, highly-skilled migrants, social media entrepreneurs, etc.), with their corresponding mobile devices (e.g. laptops, tablets, smartphones, and increasingly also smart objects). These hyper_mobile realities do not only raise important questions to economy, politics and culture in general, but also to anthropological methodology in particular.
Ethnogr@phers ought to be multi-sited and virtual-spaced at the same time. But how can we do this?
We invite paper proposals for a panel that will precisely focus on such online-offline challenges imposed upon current anthropological methodology:
How might social anthropologists or ethnographers do research within multi-sited and virtual-spaced fields?
What implication does mobile digital technology have for ethnographic methods, particularly participant observation?
How has social media affected existing methods? What impact do e.g. Facebook, Twitter or Whatsapp have both upon the field and how we research it?
Do we need to create new methodologies for researching these hyper_mobile (multi-sited and virtual-spaced) fields, or can existing methods be further developed?
To what extent is technological knowledge now a requirement for the ethnographer?
We especially invite contributions that deal with the use of communication devices and social media software while doing fieldwork. How can this tools enable the researcher to do participant observation among (physically) moving individuals while also having access to their relevant (virtual) social spaces?
The panel will take place during the "Networked Urban Mobilities" Conference at Aalborg University Campus in Copenhagen (5-7th of November 2014). Keynote speakers are John Urry, Mimi Sheller, Vincent Kaufmann and Stephen Graham. There may also be an opportunity for publication following the panel.
If you are doing ethnogr@phy in hyper_mobile fields and want to adress and discuss methodological challenges and experiences, please submit your abstracts of no more than 300 words  and a short CV no later than the 30th of May 2014 to: doing.ethnography@gmail.com
If you have any questions, please feel free to ask. And please help us to spread this call by circulating it in your own networks or to colleagues.
We look forward to receiving your proposals!
Daniel Kunzelmann
Emma Hill
Seraina Müller
(Panel Organisers, Transformations Network)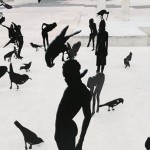 TRANSFORMATIONS is a medium through which dedicated and critical anthropologists put their thoughts, experiences and research insights up for discussion using a full range of digital opportunities including text, images, audio and video. We connect our research with themes of a broad public relevance, while also making the personal and often emotional act of research in social and cultural anthropology accessible to a wider audience. We aim for a creative, rich and accessible style of writing that is easy to understand, so that we can put people and their life-stories into the spotlight.




Did you enjoy reading this? Share it with your social network.