Ethnographic Research in the Time of Coronavirus
In Italy we have a proverb, 'anno bisesto, anno funesto' which can be translated as something like 'leap year, fatal year'. I wouldn't define myself as superstitious and I generally don't pay too much attention to these kind of sayings. However, 2020 so far has been an adverse, if not disastrous, year. The outbreak of […]
Estimated reading time: 6 minutes
In Italy we have a proverb, 'anno bisesto, anno funesto' which can be translated as something like 'leap year, fatal year'. I wouldn't define myself as superstitious and I generally don't pay too much attention to these kind of sayings. However, 2020 so far has been an adverse, if not disastrous, year.
The outbreak of COVID-19, also known as novel coronavirus, has been at the centre of attention worldwide and has been affecting the lives of people all over the world in many different ways. This new, unknown, virus originated in the province of Wuhan in China and very rapidly spread around the world. It seems to be highly contagious, it dangerously affects elderly people and those with underlying health conditions, and hospitals are overall struggling with the capacity of infected people who need respiratory assistance. The WHO (World Health Organisation) has declared it a pandemic, and there is an ongoing state of emergency in several countries in Europe and overseas.
Italy has been hit very hard by the virus, being the second country in the list of most confirmed cases and deaths after China. I live and study in Scotland, but I am from Sardinia, an island and region of Italy, which is not just my homeland but also the centre of my PhD research. As an ethnographer, I am familiar with the uncertainty that fieldwork brings about and I thought I was quite prepared (I might even say excited) to face the unforeseen and unexpected. Maybe even crash, less excitedly, into some 'dead ends'.
I can certainly state that I wasn't prepared at all for a global pandemic that would force people to stay at home and practice social distancing and self-isolation. No, this wasn't included in my contingency plan.
My first personal encounter with the novel coronavirus was a few weeks ago, the day before I was meant to fly to Cagliari (my hometown) and finally begin my 'proper' fieldwork which, for the sake of frankness, is also an excuse for me to visit my family and friends. I am in my second year of my PhD path and, as in conventional academic manner, I had planned to undertake my data collection and fieldwork throughout the year. Specifically, between March and May. My research focuses on the socio-cultural aspects of folk and religious festivals. In particular, I am analysing the performance of gender and identity in the Festival of Sant'Efisio in Sardinia, a series of rituals and celebrations including a largely attended four-day procession and a folk parade at the start of May. A social distancing festival, how would that even work?
I planned my visit before the festival time, in order to meet with the people outside the hectivity of the events. For my fieldwork, I had planned a lot of interviews with people involved in the festival in various ways: devotees, organisers, tourism office, politicians… One of the pros of doing research in your hometown is the ability of establishing connections quite easily and, although it would be reductive to say that 'everybody knows everybody' in Cagliari (its population is currently just over 150,000 inhabitants), it had been notably straightforward to get in touch with so many people and arrange so many meetings. My diary was brimming!
However, the situation in Italy worsened, and some restrictive travel measures were taken. The UK government discouraged travel to Italy, and the university abided by the new dispositions. My fieldtrip was therefore cancelled the day before it was meant to start. Concerns over my data collection started to arise, and as the situation stands now, travel plans are out of the picture. Furthermore, people are asked to stay home and limit their face to face contacts to the minimum. The Festival of Sant'Efisio will likely be cancelled, although the population of Sardinia is resorting once more (after the plague in 1652, which originated the Festival in the first place) to the faith in the Patron with prayers and pleas to free them from the new frightening virus. My whole research appears to be crumbling in this uncertain time, and I am confused both on an academic and personal level.
Ethnographic research is traditionally known for its in depth analysis, for the 'deep hanging out' (Geertz, 1998) and the 'thick description' (Geertz, 1973) it provides. Ethnography has changed overtime, and its methods adapted to new circumstances too. The meanings and boundaries of the field have transformed, especially with the development of new technology, allowing the researcher to 'being there' without necessarily 'being there' (Craith and Hill, 2015). As 21st century ethnographers we are hardly expected to move and live with 'unknown' communities for a prolonged time, as in the traditional ethnographic framework inherited from Boas and Malinowski, just to cite two. Multi-sited 'yo-yo fieldwork' (Wulff, 2002), 'netnography' (Kozinets, 2006) and alternative methodology are becoming more popular among ethnographers, including myself. Virtual interviewing, emails, video conferences and the likes seem to be the new frontier of ethnographic research methods.
But what about the body? The touch? The feeling?
As I was getting ready for my fieldtrip, I dwelled in the anticipation of the whole range of sensations which I would experience in my ethnographic encounters. Now, COVID-19 has been forcing people to avoid proximity to each other. Handshakes and the two kisses on the cheeks, as in the classic Italian fashion, are frowned upon. This pandemic is affecting all spheres of life around the world, and is also making us re-evaluating our habits, our relationship with each other and with the surrounding environment.
Life as we know it now might change forever, ethnography included. I cannot think of a better example of liminal phase than what we are experiencing globally at the moment, as we are overwhelmed by this pandemic. In liminality lies the potential of transformation, it's also a time to bond and empathise with each other. As ethnographers, we are compelled to embrace the unexpected and reflect on it. That's what I am trying to do!
Bibliography
Craith, M. and Hill, E. (2015), 'Re-locating the Ethnographic Field.' Anthropological Journal of European Cultures, 24 (1), pp. 42-62.
Geertz, C. (1973), 'Thick Description: Toward an Interpretive Theory of Culture.' The Interpretation of Cultures: Selected Essays. New York: Basic Books, pp. 3–30.
Geertz, C. (1998), 'Deep hanging out.' New York Review of Books, 45 (16), pp. 69–72.
Kozinets, R. (2006), 'Click to Connect: Netnography and Tribal Advertising.' Journal of Advertising Research, 46 (3), pp. 279-288.
Wulff, H. (2002), 'Yo-yo Fieldwork: Mobility and Time in a Multi-local Study of Dance in Ireland.' Anthropological Journal on European Cultures, 11 (1), pp. 117-136.
Photo by Chiara Cocco.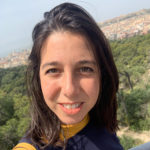 I am a doctoral researcher at the Department of Languages and Intercultural Studies at Heriot-Watt University, Scotland. My research interests include ethnographic methods in festival studies, anthropological perspectives on cultural heritage, particularly festivals, folklore and intangible heritage. Besides my work, I love practicing ashtanga yoga at 6am. I am definitely an early bird!




Did you enjoy reading this? Share it with your social network.