Finding Euroland: Experiencing European (Dis)integration in the Everyday
When driving along a road on the Isle of Skye, Scotland, a European flag flashes by. It marks EU investment in the local infrastructure. But Europe is not always that obvious.
Estimated reading time: 3 minutes
In 2002, before the start of the 'crises' the EU faced during the first two decades of the 21st century, the anthropologist Reinhard Johler described the nation-overarching space created within the EU as Euroland. He argued that within this space, the local is becoming Europeanised, and the European localised.
Having lived in both Leuven (Belgium) and Freiburg im Breisgau (South-Western Germany), both in European border areas, I am no stranger to places which have been made 'European'. The obvious example being the European district in Brussels, which is clearly linked to the EU, but also others which are made 'European' simply by their name: for example, the Basel-Mulhouse-Freiburg 'Euroairport', the 'Europapark' theme park near the French-German border, or indeed 'Euro Food', the small convenience store round the corner from where I grew up. These are examples where something local (a district, an airport, a theme park, a shop), has been connected to Europe.
But it would be a mistake to think that Euroland is limited to those spaces which are directly connected to the EU or have been portrayed as explicitly European. Almost 20 years after Johler wrote his article, Euroland has become deeply entrenched in the everyday, sometimes beyond recognition. 'Local' transport infrastructure, trade routes, services and more may be connected to Europe in some form. Sometimes, these are EU investments which are marked with a European flag, but sometimes the connection is not so obvious.
This brings us to Brexit.1 Although some prophesied that when Brexit actually happened it would be similar to the apocalypse, it was surprisingly undramatic. There was no immediate collapse of society. Since then however, the effects of Brexit are increasingly being felt.
When doing fieldwork on European identity, discussions regularly covered these effects in the everyday. These were often reflections of the liminality of the uncertain period between the EU referendum and when Brexit actually happened: a growing awareness of connections between Europe and the local, but unsure about how these would be affected by Brexit. As one participant described it: 'There's stickers up saying this has been European funded or aided. And I think folk now are beginning to [ask]: "Well, who's going to replace that?"' This was in reference to a local ferry – a vital part of the island community where he lives.
I am not arguing that people only realised the presence and importance of EU support after Brexit – those whom I spoke to were very aware of how the funding to local infrastructure and business. But one participant made the following interesting comment: 'We all live in a connected community, you know, if we have a Polish plumber or an Italian barista or a Latvian person in an old people's home. That's all part of the network, it's one thing. […] The failure to understand that we're a connected society is going to have big repercussions.' She argued that even though many were aware of how Brexit would affect their direct livelihoods or environments, its consequences for others in their communities was only starting to become apparent.
From the discussions I have had, I got the impression that the sheer extent and depth of connections between Europe and the local has come as a surprise to many. Indeed, finding Euroland is not as simple as pointing to an EU flag on a road sign. It is not only around us, but also in-between us. Unravelling it is, and will continue to be, difficult.
[1] Sorry, I know you have probably had enough of reading about Brexit, but I'm afraid it will still be with us for a few years to come.
All pictures (c) by the author.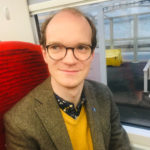 Doctoral researcher at Heriot-Watt University in Edinburgh, Scotland. Particularly interested in European identity as perceived from small states. His PhD focuses on meanings of Europe within the Scottish independence movement. When not working, Alastair is either making music or battling the Scottish winds on his bicycle.




Did you enjoy reading this? Share it with your social network.