Lima's new cooking pot
Lima is considered the gastronomic capital of South America. Cooking and eating have always been national passions in Peru, but the country's culinary boom invokes a number of issues that go well beyond the simple cooking pot and involve society, economy, and politics. As the story of Maria shows…
Estimated reading time: 6 minutes
At three in the morning, Maria Vásquez Palomino starts to cook a pot of patasca at home. She lives close to the market where she has her stand. The succulent dish is composed of three different types of meat, big corn, three kinds of potatoes, vegetables and other Andean spices. It tends to be eaten in the morning so that people have enough energy for work. For Maria it is a magical soup, as it reunites the nation around a dish that has been part of a millenary tradition of the Andes, but that has also been marginalized over years.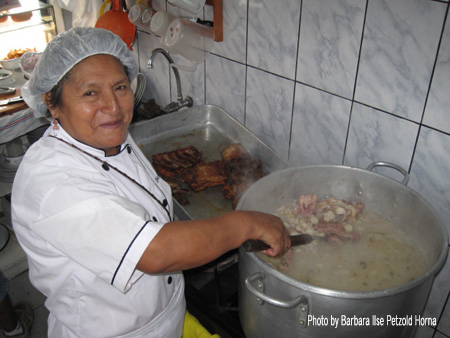 Lima is considered the gastronomic capital of South America and home to three of Restaurant magazine's best restaurants of 2015. This development does not just concern specialized gourmets though. Cooking and eating have always been national passions in Peru, but the South American country's culinary boom also manifests itself in an increasing media frenzy about this existing cultural tradition and developing culinary economies. Even sceptics, who might dismiss this hype as just another marketing strategy for tourism, need only set foot in the country to confirm that, at lunch time, every corner smells enticingly of onion, chili and herbs.
What makes this particular trend so worth noticing is that it has declared cultural diversity to be the defining characteristic of the Peruvian cuisine. This invokes a number of issues that go well beyond the simple cooking pot and involve society, economy, and politics. Local and popular cuisines are being revalued in Lima's food scene. These culinary cultures are leaving their marginalized contexts and developing into identification mechanisms that cross cultures and milieus.
New culinary entrepreneurs
As with Maria's story, there are hundreds of migrants narratives in Lima that show the increasing importance of food, not only as an economic strategy, but also as symbolic valorization of personal and cultural identity. The socio-political grievances of the 20th century – such as poverty, centralization and the internal armed conflict – have driven increased migration to the capital Lima, which is now home to one-third of the Peruvian population. Half of all limeños and limeñas come from a background of internal migration. Many of them have suffered racism and discrimination for a number of decades: indigenous cultures and identities have been denied and stigmatized. But people who have migrated to Lima do not simply passively absorb a host of cultural elements. They develop new methods of self-expression and create spaces and strategies for their redefinition. Cuisine is one of these. Through the empowerment of culinary activities, many migrants convert themselves into entrepreneurs.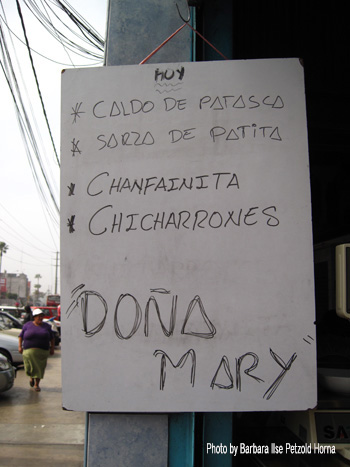 Maria came from the Andes to Lima as a domestic worker when she was sixteen and evolved into a culinary entrepreneur; after more than thirty years her patasca is one of the best known in Lima, and not only migrants from the Andes, but also people from many different social milieus come to taste it. Maria's story also shows that gastronomy offers an opportunity for social mobility. Through her culinary activity she has become the economic head of the family: her three adult siblings work at her business, she supports her daughter, grandchildren, and her brother, who has been paralyzed for ten years due to a stroke. She feels really proud of her success: "At the culinary fare Mistura I have sold so much patasca, that I haven´t had enough for all guests. Foreigners like how it tastes. I want to cook my patasca delicious to represent my country and to thank the support of the chef cook Gaston. Patasca is not fried food, its flavour depends on the time and patience I dedicate to it".
Gastronomic as cultural encounter
Peru's cuisine is not only a chance for economic activity for many people, but also brings together many different groups. The history of Peru's cuisine is a story of cultural encounters. In the city of Lima, central Lima (historic districts) and peripheral Lima (districts created by waves of migrants) have historically shown differences in their culinary identities, which also corresponded to their cultural and socio-economic backgrounds.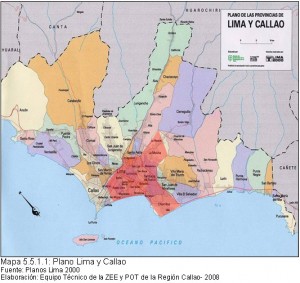 This culinary segregation seems to be dissipating slowly as new identification opportunities. A trend toward culinary experimentation is beginning to make inroads into Lima's society. Through consumption, participants communicate versatile identities according to different situations and places, and they hold fewer prejudices against the new and the social changes. Maria tells that her experience with customers has changed a lot in the last five years: "All colors, all clothes, all faces are coming to sit down at the 'soup-bar' in the market", she says. "More attention is given to people's culinary culture that formerly was ignored." The newly articulated culinary culture of Peru is kicking off a new identity paradigm quite distinct from old discourses of identity. Peru's elite used to center their identity on Westernization and the rejection of Andean culture. An opposing culinary discourse has now emerged that is decentralized and upvalueing identities that have long been excluded. This means that Andean and Amazonian dishes and ingredients are now not only accepted, but are a trend, as is the case with quinoa, a cereal long refused at Lima's traditional tables. Traditional foods from rural regions, like cuy chactado (deep-fried guinea pig), patasca (Andean soup) and pachamanca (marinated meat and vegetables roasted in an earthen pit), are also increasingly popular.
Instrumentalizing Peru's cuisine
Lima has become a metropolis of gastronomical stories that each inhabitant can write for him-/herself. It is a city in which most people feel quite at home, and a place to let creativity run free. Its power should not be underestimated, especially in a country in which fears are often stoked by the media and where society often feels limited in its freedom. Restaurateurs have built up a powerful network, are well organized, and know how to make their voices heard in politics and the media. However, despite its success, the movement remains at risk. Its positive connotations have turned the subject into the perfect populist parole for the Peruvian government. The state is absent from many areas of life, which has resulted in little identification by the population with government institutions. The current popularity of culinary culture has inspired governments to exploit this phenomenon for their own gain. Political pride in the allegedly authentic Peruvian cuisine is used to obscure the country's real problems, such as poverty and social inequality. Nowadays the government has institutionalized official festivity days, for example, for the Peruvian grilled chicken, cebiche and pisco, among others. Not without coincidence, such politicisation has occurred in times of social conflict in Peru, and there is a suspicion amongst some Peruvians that gastronomy is being used as a distraction from critical social issues. Peru's problems are not due to a lack of a national identity, but rather a lack of democracy expressed in (for example) the arbitrariness of political decisions, the absence of justice, and indifference to poverty. As Maria said, Peruvian food should not only be regarded as tasty but as a connection to our social and cultural reality. It is therefore important to understand it not only as an expression of inequality, social change but also as a potential strategy to illuminate our deep conflicts.
A first version of this article was published on Digital Development Debates.




Did you enjoy reading this? Share it with your social network.