Submit a picture story and win a spot in a two-day multimedia storytelling workshop with Transformations
You have many stories to tell, but you don't quite know how? Send us a picture and an accompanying story and win a spot in a two-day workshop on multimedia storytelling held in Munich, 23-24 October, 2015.
Estimated reading time: 1 minute
The workshop will be held by the price-winning journalist Matthias Eberl, who is one of the pioneers of multimedia storytelling.
Participants will learn how to combine different media and elements into compelling stories. Some outstanding examples for this new trend in online publishing can be found here, here and here.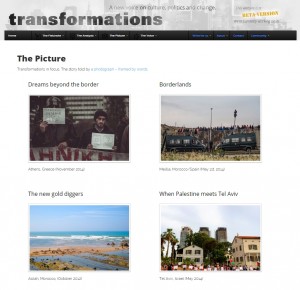 Requirements
In order to qualify for the workshop, you need to be a PhD student and you should be able to come to Munich at the time of the workshop. Financial support for travel costs and accommodation will be provided.
Want to get started?
Submit a story in the genre "The Picture" to contact.transformations@gmail.com – the Deadline is September 1!
And of course all interesting stories submitted to us will be published on our website.
What is "The Picture"?
The Picture is a genre that explains research findings or experiences through a photograph and an accompanying short piece of text. Whilst in other formats, photos are used to underline the text, this encourages the opposite: the text should underline the photo, and the photo should be outstanding.




Did you enjoy reading this? Share it with your social network.