Dreams beyond the border
Athens, Greece (November 2014)
Estimated reading time: 4 minutes
"I have faced 3 deaths; The first death I faced was the disaster war in Syria…the second was crossing the sea which is a very dangerous journey and now, I am ready to face it again here in Greece"
– Syrian refugee, hunger striker
Standing in the heart of Athens, holding two signs, these men in the photo taken by Dimitris Tsirigotis are two of over 200 Syrian refugees who organized a sit-in and hunger strike in Syntagma square, across from the Greek Parliament starting on November 19th. Approximately one third of those who were camping out on the pavements of Syntagma were children. These refugees of war are fighting for social and political support, action and change, for the freedom to move through Greece to other European countries, and as one refugee explained, "for permission to find [their] futures … [their] children's futures, safely".
The Greek Ministry of Interior circulated a document to protesters stating that they had nothing to gain from staying in Syntagma and that their only option is to claim asylum in Greece. The Ministry also stated that it does not have the infrastructure to provide all refugees with accommodation, and with currently over 1.2 million unemployed people in Greece, a future for them does not look hopeful.
Permission to find one's own future?
Having faced violence, destruction and death, millions of Syrians have sought refuge from the war in other countries. With limited legal means of getting to the EU, Syrian refugees resort to taking dangerous routes by means of an underground business of smugglers massively profiting from this crisis. Greece's geographical location makes it a primary entry point for refugees in order to get to other European countries. Approximately 30,000 Syrian refugees are expected to have entered Greece by the end of 2014. Under EU law, namely the Dublin Regulation, refugees must claim asylum in the first country they enter and cannot legally leave that country, but Greece is not where they want to stay.
"We all have different stories, but we share the same pain", stated a young refugee participating in the sit-in. They want the freedom to restart their lives with dignity in other countries but are prohibited from doing so legally. "We escaped from the war not to stop here", said a man who was refusing food, water and medical care. He added, "It's not just me, there are families and children, I am ready to die for them". Hundreds of refugees put their own bodies in serious danger by hunger striking as the only option they saw left. Many collapsed and were sent to the hospital, and to date, two refugees who had been part of the sit-in have lost their lives. Ayman Ghazal, a doctor who spent 12 days with the protesters in Syntagma, decided to pursue his goal of reaching a Northern European country by crossing the border on his own. Sadly, his effort was futile and he died shortly after he crossed the Greek Albanian border. Another man who was also hunger striking collapsed and died in the hospital from heart failure.
Laws working "against humans"
What is happening in Greece reflects a much larger socio-political issue that demands attention and immediate action from the EU as well as international governments. According to Amnesty International, approximately 4 million Syrians have escaped the war in Syria and fled to other countries. The global situation for refugees is urgent. Government representatives from all over the world must share the responsibility and cooperate to help refugees whose lives have been destroyed by war. The laws in place currently do not provide a viable solution. One refugee claimed that the current law works "against humans". The United Nations High Commissioner for Refugees has described this crisis as "the biggest humanitarian emergency of our era".
The cold weather and rain seeping through their blankets at night pales in comparison to what they have endured in war-stricken Syria and the social, economic and political barriers they will continue to face in Greece and other countries. They are among the minority that dare to challenge written laws that seem unchangeable.
Despite being told they had nothing to gain in their protest, they stood together and fought for their universal rights, amplifying their voice through their visibility. Their struggle in Greece and worldwide is very real and their fight continues. "One hand cannot clap alone" explained a Syrian refugee at the Syntagma Square. Solidarity is their strength. Clapping with them will help heighten the noise in their fight for social and political freedom.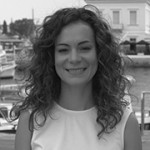 A sociologist and researcher from Canada currently living and doing independent research in Greece. I'm interested in examining how power is contested by individuals and groups of unequal status in society.




Did you enjoy reading this? Share it with your social network.