Finding tales to tell
Istanbul, Turkey (Summer 2014)
Estimated reading time: 3 minutes
"Looking for a story? I might just have one!"
With those words, Hikmet, a Turkish friend, invited me for a walk: story hunting in Istanbul. It was the summer of 2014 and Hikmet suggested we cross the recently opened Golden Horn Metro Bridge. The bridge that had been condemned by most of my liberal Turkish friends as one more 'balls-up' in the already distorted face of Istanbul moreover threatening the city's UNESCO World Heritage status. What was there to find?
Walking For Stories
Hikmet and I set out crossing the bridge from Süleymaniye, a neighborhood which has been neglected for decades, towards flourishing Galata. We were going on about the architectural disgrace, bored already, when we spotted a young couple accompanied by their daughter, the colors of their clothes and hair matching the sunsetting sky. "Syrians," Hikmet concluded quickly, explaining that their clothes were giving them away. Spontaneously, we decided to leave the bridge behind and instead follow the family. We ended up right in the commercial center of Galata, where the father, mother and young daughter worked as street beggars. Back then, in 2014, especially locals were still giving generously – gestures of solidarity that seemed to decrease during the months to come.
A Refugee Family On The Move
Only late at night would the family return to their current home on the other side of the bridge where half-demolished Ottoman-period timber houses were rented out to the marginalized, mainly single male construction workers from Eastern Turkey, and as of late to refugees from the civil-war-torn Syria. By that time, Turkey had opened its borders and more than one million had taken asylum in the country , 120'000 of which were scattered across Istanbul.
The family's house was situated just next door to the metro's track which cut right through their alley and where razor wire fence topped the partition. Looking further up the hill I recognized manicured houses; fresh paint on wood, muted reds and greens, and glass facades. The first measures of The Süleymaniye Regional Renewal Project, aimed at creating a "positive and attractive urban area".
Commuting to their workplace the family belonged to the estimated one million people daily crossing the Golden Horn on the Metro Bridge to commute to their workplace. Doing so probably saved the family a forty minute detour. At the same time, this bridge is accelerating the gentrification of their neighborhood – ultimately forcing them to move on.
Pinning Down The Real?
Hikmet proved to be right. I found strings enough to pull together a story. One that turned into 20 pages of fictional prose. Yet a year later the photograph leaves a bittersweet taste. I am reminded of those moments of joyfully paying attention, moments that can lead to finding a good story, or gaining new insight. But it makes me think: In those 20 pages of fictional prose, did I do justice to this family and the reality of their life? Isn't the process of writing down tales of people inevitably lacking some of those humble steps towards human connection? Steps you have ultimately missed out on at the very moment you chose your first words, be it as a writer of fiction, or as an anthropologist.
A few days after our walk, Hikmet sent me an e-mail. I still keep wondering if his words mark the endpoint of those questions – or their beginning. "Dear M. Here is the photo of the couple and the bridge. I changed the color a bit. Doesn't quite look real anymore. But reality is a tale anyway."
*Reference
1 Photo by Hakan Gürsoytrak: The Golden Horn Metro Bridge (summer 2014)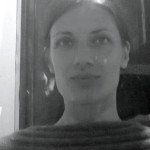 Did you enjoy reading this? Share it with your social network.