Keep on going: how Palestinians make their way through the maze of the occupation
For Palestinians in the West Bank an ever growing array of movement restrictions imposed by the Israeli occupation have become part of a troubling routine: growing settlements combined with economic and political pressure make movement as such a question of survival. And yet the routine of crossing borders, of heading for new places and the refusal to leave have also become forms of everyday resistance that challenge this military occupation.
Est. reading time: 8 minutes
In the occupied West Bank, mobility and migration aren't just everyday routine. They are highly charged political issues. In my field research (2010) among young Palestinians who had migrated from other parts of the occupied West Bank to Ramallah, I discovered many ways in which Palestinians move in the face of territorial entrapment. Coming from the rural and urban surroundings of other cities such as Hebron, Nablus or Jenin, these young Palestinians had very different backgrounds and childhood experiences. But what they shared was the fate of people who decided to migrate within the ever shrinking piece of land called West Bank.
"You don't know why"
In times of increased violence movement restrictions become rather 'ordinary' in the face of other violent measures. But despite having become routine, these restrictions – among them the Separation Barrier, bypass roads and checkpoints have a detrimental effect on the socio-economic life of Palestinians and restrain political processes. On a day to day basis, they aggravate the increasing territorial fragmentation of the West Bank, which has intensified steadily since the advent of Israel's settlement project in 1967. With the Oslo Accords in the 1990s, separation and immobility were furthered and legislated. The impact of Israeli settlements on Palestinians' mobility is particularly severe because they gave rise to a whole network of segregated roads and made huge expanses of land inaccessible for local Palestinians. For them, these restrictions cause frustration, stress and a feeling of helplessness and uncertainty. As one Palestinian put it, especially the seemingly arbitrary closures and checks are tormenting:
"You may lose four hours for a ride that actually takes one. That's the occupation. […] You may drive one month without problems, and one day you face many problems, and the road is closed. Why? You don't know why."
Living with subtle violence
This unpredictability is part of a larger system of movement control, which includes different forms of violence: as they regulate the access to resources on the basis of ethnic discrimination, checkpoints become instruments of structural violence. They are spaces for the threat and exercise of physical violence, allow violations of individual privacy and violently interfere in societal norms, especially when body searches are involved. Cultural and religious practices add another level of vulnerability, as becomes evident when soldiers let people wait exceptionally long in the sunset hours during the fasting month of Ramadan, when Muslims are usually heading home for the Iftar, the first meal till sunrise. These and other movement restrictions and the policies that facilitate them also constrain social relationships by separating families and friends.
More subtle but nonetheless tremendous is the symbolic violence at checkpoints: as Palestinians approach a checkpoint by car, they almost automatically switch off the headlights and turn on the interior lighting as to allow soldiers a good sight into the vehicle. Such habits are the result of symbolic violence, which Pierre Bourdieu used to explain how people learn and internalise patterns of inequality. The Palestinians also adapt to such violence, for example by using Hebrew to ease the crossing of an Israeli checkpoint. Some even say that they acquire skills in the language of the occupier for that reason. These practices clearly strive to reduce uncertainties in times of transition, but they also show how people under occupation are living with and enacting power on a daily basis.
Outsmarting the system
Despite all these obstacles, Palestinians continue to move as they follow the demand of work, study at a distant university, run errands, or visit relatives and friends. They develop their own strategies of dealing with restrictions as they cross checkpoints on a daily basis. They avoid, whenever possible, certain times during the day when they expect sudden checks or traffic jams. And they also use alternative routes to bypass notorious checkpoints, often in acceptance of significant detours and delays. In fear of unexpected consequences, Palestinians also got used to hiding or witholding information during these checks. During the peak of the Second Intifada, when the Israeli system of control was tightened further, young Palestinians seldom carried pictures of friends and relatives with them. This way they avoided being interrogated about them. Equally, students of particular fields seen as 'suspicious' by the occupying power, such as Chemistry (for its association with explosives), did not bring their student-ID with them.
Moving for its own sake
Palestinians are moving nevertheless because they have to earn a living and stay connected with others. And yet movement also happens 'just' for its own sake:
Samira, a young Palestinian woman, spent nearly every day after work on the road with her boyfriend. Driving towards different towns and places in the West Bank, they covered long distances and crossed several checkpoints. Why did they do that? This movement allowed them to spend time together without breaking the norms and customs of society, for meeting at home would usually not be tolerated. And their trips also challenged restrictions, because driving around and crossing checkpoints 'just for fun' overcomes the entrapment of violent mobility control. Samira and her boyfriend regained power and (re)occupied spaces in a surrounding that would otherwise paralyse them. Some Palestinians actually called these daily movements "resistance".
Leaving for Ramallah
Besides carrying on moving, Palestinians in the West Bank also try to keep the extent of their travelling at a minimum: they choose nearby universities or refuse marriage partners from faraway districts. Palestinians even avoid the need for movement by resettling to urban areas, above all to Ramallah and the adjacent al-Bireh.
Ramallah grew from a small town into the political centre of the West Bank, not least because the occupation made East Jerusalem inaccessible for most Palestinians. From labour migrants to aid workers and returning elites of the previously exiled Palestinian Liberation Organisation (PLO) – Ramallah has become the place to be.
Working opportunities are often stated as the main reason for migration to Ramallah, but the influence of the occupation on these migrational processes is equally tremendous. The many movement restrictions worsened the economic situation in many parts of West Bank, thereby pushing people into the promising space of Ramallah. And at the same time, they are pulled into Ramallah by its political and economic development. Again, because of the difficulty of movement, initial commuters quickly turn into internal migrants in the West Bank because they are no longer willing to accept the daily delays and tiring detours.
Rami, who had been living in Ramallah for seven years at the time, left the city of Qalqilia for the following reason:
"I was working in Qalqilia, but when the [Second] Intifada came, they built the wall around Qalqilia. The wall is closing Qalqilia in. There wasn't any more work in Qalqilia. And so I had to think about alternatives."
But Rami also appreciates Ramallah for its relatively open and liberal life style, saying that nobody bothers him there for not being married yet. He traces this preference of Ramallah back to his experiences during his studies in other, non-Arab countries. And when we look at the reasons for his initial leaving of the West Bank, we come back to politics:
"When I graduated from school, there was an Intifada in Palestine, the first Intifada. […] All universities were closed […] or, so to speak, it was difficult to study here in a normal way, very difficult. Thus my family didn't want me to stay here."
Rami's story shows that forced and volunary migration are often difficult to differentiate. People try to cope with an unstable political situation and violence by constantly considering their options and making decisions within their families.
"How can I escape from this life?"
In the absence of a Palestinian airport; and banned from usingthe nearby Ben Gurion Airport, Palestinians with a West Bank-ID must cross the Israeli controlled border to Jordan and travel abroad via Amman. These border crossings often entail extensive delays and violence very similar to the checkpoints within the West Bank. Moreover, for Palestinians from the Occupied Territories it is difficult to acquire visas for foreign countries or to get permissions for travelling to Israel.
Apart from these concrete obstacles, transnational migration is a contradictory topic among Palestinians in the West Bank. The wish to leave Palestine and escape from its deteriorated living conditions is a widespread idea among the youth:
"I know there are many people who work here, receive wages every month, but ask themselves constantly: 'How can I escape from this life?'"
And yet Palestinians usually add that they want to return to Palestine some day, to support the local population, or simply not to let the Palestinian population in the Territories diminish in the light of the Israeli settler movement. One young woman said:
"Jews are coming from all regions of the world and I shall leave it [Palestine]? No, of course not. And my children—if I should marry somewhere on earth, also if I want to marry in Japan—the children have to return here."
Transnational migration thus became a powerful idea going back and forth between dreams of improving one's personal situation and obligations towards the larger community. And so Palestians keep on moving, staying, leaving and returning.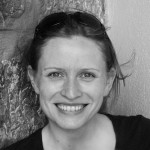 Did you enjoy reading this? Share it with your social network.