Who is a migrant?
The answer to this question might seem pretty obvious. Everybody claims to know what a migrant is, since migration is an omnipresent issue in media and politics. But is the term really so easily defined? And who defines himself as a migrant?
Estimated reading time: 5 minutes
According to the Dictionary of Anthropology, a migrant is someone who moves from one country or locality to settle in another. A similar definition stems from the United Nations: it regards all people as migrants who move to a country other than their usual residence for a period of more than one year. But leaving the ivory tower of academic research and entering the realms of everyday life, one soon will experience that not every migrant is considered as such.
First of all, the term "migrant" raises certain expectations. When I'm talking to friends about my research on comparatively "successful" migrants in Austria, they are surprised: as soon as they hear the term "migration", they do not anticipate hearing it in connection with the term "successful", but rather with socio-economic disadvantage and discrimination. One may argue that the mentioned friends are all Austrians and hence have a different viewpoint than people who experienced migration first-hand. But there's more to it than that.
How do migrants themselves comment on migration?
For one research project, I interviewed migrants from different backgrounds who all work in the Austrian media sector. In short, my aim was to explore how their migration background affects their everyday lives. To do so, I conducted and analyzed life story interviews. I vividly remember my encounter with Emily[1], a tough career woman from the United States. During the 1970ies she worked as a publisher for several well-known publishing houses in New York City. There she also met her husband-to-be, an Austrian journalist who then had to travel to the United States on a frequent basis. In 1978 they got married. The couple moved to Vienna and has lived there ever since.
In the fall of 2012 I sent her an email and asked if she would give me an interview. She agreed to meet me but she also expressed doubts. She wondered if there was anything in her life that could be of interest for a migration researcher at all. Allegedly she assumed that a migration researcher is predominantly interested in certain topics. By the way, I encountered this perception several times along my way: some of my interview partners almost "apologized" for not having experienced severe disadvantages in connection with their migration. Apparently this is what a migration researcher is supposed to talk about: discrimination and misery. (On the other hand, nobody apologized for telling "too little" about the positive aspects of their migration experience.)
During our interview, Emily claimed: "I never felt like an immigrant. I moved here—I didn't migrate here." That's why she does not refer to herself as a migrant: "I moved here and I stayed. That's it." I asked why she refuses to be a migrant: "I know what migrants are and I live in a district in an immigrant community, or a community to which many people from other countries have migrated. But I look at them and it's not because of their color or whatever … You know, I just feel different." This had nothing to do with any kind of rejection of foreigners, she reassured me:  "I find this migrant-thing … I don't see it as negative. I just don't feel like it has anything to do with me."
But who is a "migrant"?
Emily tried to characterize a "migrant": "Someone who migrates to some place for food, for money, perhaps for love, for political reasons – I mean, for all sorts of reasons. I never would have – I am very certain – I never would have left the States, I never would have had to leave the States, had I not fallen in love with Karl." She gave it another thought and suddenly displayed a hint of doubt: "I think that people migrate for reasons. And I guess love is a reason. I guess it is, you know … I don't think of that."
Some migrants I met uttered outright astonishment when I asked if they would call themselves migrants. For example Victor: born and raised in England, he has been living and working as a journalist in Vienna for more than ten years. "No, I wouldn't. I was just thinking that I have never even posed myself this question", he responded. So, whom does he consider a migrant? Someone, "who leaves a place to start a new life." He adds: "Which is, I guess, what I did but it doesn't feel like that." Bridget from Scotland reacted likewise. She migrated to Austria in 1989 – but is she a migrant at all? She denies, because: "I am not somebody for whom that has made life difficult."
Akif on the other hand states to have migration background. He migrated from Turkey to Austria in 1996 when he was eight years old. Now he studies Development Studies and works as a free-lance journalist. Nevertheless he questions and also dislikes terms like "migrant" or "migration background". He sneers about the stereotypes they implicate: "I would say that I am a first-generation migrant. On the other hand that sounds like if I were a guest worker", he said and laughed.
More than meets the eye
Terms like "migrant" or "migration background" are not as neutral, descriptive and politically correct as they commonly are considered to be. For many—migrants and non-migrants alike—a migrant is a somewhat abstract figure that stems from the Global South and most likely has to deal with miscellaneous difficulties. Mentioning migration often evokes discomforting images: about living on the edges of society, losing your home, parting forever from your family. Of course lots of "migrants" actually do suffer from various disadvantages and there is no point in denying that. And as a matter of fact no feasible synonym exists yet. But what about turning one's attention also to positive aspects of migration? What about profiting from sophistication, cosmopolitanism, multilingualism? It may be a tiny but indeed important step in order to obtain a somewhat more comprehensive – hence also more realistic – image of "the migrant" and migration in general.
[1] All names in this article are pseudonyms.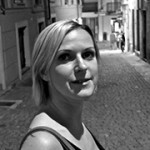 After working as a journalist and free-lance editor, I switched to anthropology. My PhD thesis deals with migrants who work in the Austrian mass media. I am interested in migration, integration and life stories.




Did you enjoy reading this? Share it with your social network.