Why anthropology matters.
Thomas Hylland Eriksen is professor of Social Anthropology at the University of Oslo and author of "Engaging Anthropology: The Case for A Public Presence". For the Transformations project, he speaks about anthropologists' relation to the public, and deconstructs the fears we as social scientists often have when thinking about going public: One doesn't need to oversimplify in order to bridge the gap from the research we do to a wider audience. So don't be scared of story-telling and don't hide the great characters and events you discover behind analysis, but rather let analysis speak through them.
Estimated reading time: 1 minute
0001 anthropology matters eriksen going public from Transformations blog on Vimeo.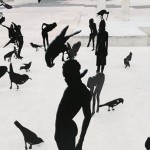 TRANSFORMATIONS is a medium through which dedicated and critical anthropologists put their thoughts, experiences and research insights up for discussion using a full range of digital opportunities including text, images, audio and video. We connect our research with themes of a broad public relevance, while also making the personal and often emotional act of research in social and cultural anthropology accessible to a wider audience. We aim for a creative, rich and accessible style of writing that is easy to understand, so that we can put people and their life-stories into the spotlight.




Did you enjoy reading this? Share it with your social network.