Borderlands
Melilla, Morocco/Spain (May 1st, 2014)
Estimated reading time: 5 minutes
You might have seen a photo like this one recently. Since the beginning of 2014, numerous similar pictures keep circulating in the media. The most viral one is a picture of sub-Saharan migrants stuck on a border fence, looking down from it, while two white-clad golfers tee off. Both images were taken by Josè Palazón, and they show the intensively contested situation at Spanish-Moroccan borders.
With their cross-border movements, transnational migrants inexorably try to overcome the fences of the Spanish enclaves Ceuta and Melilla in Northern Morocco, which are controlled more and more riggedly since 2005. These two reminiscences of the Spanish Protectorate (1912-1956) mark the only landborders between Africa and EU-Europe. Until today, these borderlands represent their common post-colonial history.
Creating a possibly better future
From Ceuta, at the most narrow point of the Strait of Gibraltar, the distance to "grand Spain"—as some sub-Saharan migrants call the Iberian peninsula—is only about 14 kilometres. On clear days, one can even get a glimpse of Europe from some spots in Tanger (Marocco). The route passing through Ceuta and Melilla is one of the many paths of transnational mobility to Europe. Adjusting to the extension of the European border regime, which has reached far beyond the EU-Schengen space, migrants' routes are constantly changing. Contrary to alarming voices who keep referring to so-called "growing waves" of refugees, these allegedly "irregular" and "unwelcome" migrants' movements are quite insignificant compared to the internal mobility taking place in Africa, the Middle East and Asia, as scholars have shown.
People from the global South and East head for Europe in order to realize their diverse migration projects crossing physical, social and cultural boundaries, then often integrating into long-existing, transnational networks of family and friends. They might be in need of international protection, fleeing from wars and persecutions, or, fundamentally, in search of another life. In each and every case, it means putting into motion and practice their imaginations, aspirations and hope of creating a possibly better future. They thereby often draw on social imaginations shaped by images and social models which mass and social media keep providing.
The wrong side of the fence
The chosen picture captures the moment when state frontier guards block people from entering EU-Europe, after a group of migrants had climbed the first six-metre razor-wire fence of the border installation separating Morocco from Melilla. The migrants have been bearing up at the very top of the fence for hours. The police violently tried to get them to come down, and to hinder them from escaping—reaching the temporary detention camp "CETI". If migrants somehow still make it, which in this picture was not the case, they are immediately returned to Morocco without any written legal proceeding and against internationally acknowledged guarantees like the right to seek asylum. Such concerted actions have gotten normalized during the last years. For a long time, the Spanish Minister of Interior kept denying the fact that these brutal procedures of push-backs, informally referred to as "expulsiones en caliente" (hot deportation), happen on Spanish soil, even though this fact has already been confirmed by the judge in charge of the case.
José Palazón, who took this picture on the spot between Beni Enzar and the so-called Chinese Quarter in Melilla, is the highly dedicated director of PRO.DE.IN. Melilla, a group especially supporting unaccompanied migrant children. Since more then ten years, this NGO denounces unlawful push-backs of migrants. Together with two other immigrant support associations ("Andalucía Acoge" and "SOS Racism") they managed to pursue a lawsuit against the local Civil Guard chief based on incriminatory videos like this one taken in September. As Palazón assumed, the judgement underscored the complete illegality of such push-backs procedures at the border fence and will finally affect and call into account the Spanish Ministry of Interior.
Meanwhile, the criticism of excessive violence in Melilla has even widely spread into western mainstream media, provoking reactions in European and international institutions. In October 2014, the Council of Europe called for an investigation of the oppressive events at these borders. In November, the UN-Committee of Human Rights requested explanations from Spain regarding a series of critical issues like mass expulsions and the general state violence at the border. And it demands clarification about the at least 15 deaths of people who were trying to cross the border between Ceuta and Morocco in February 2014, when the Spanish "Guardia Civil"—a police-like unit—started firing rubber bullets at them.
Asylum offices at the borders?
Being faced with such constraints of legitimation, Spain tries to legalize its push-back policy by reforming the "Alien Act" ("Ley de Extranjería"). For Ceuta and Melilla, they are trying to create a new legal fact called "rejection at the border". This planned measure is quite contested by various civil society organisations like the "Jesuit Service to Migrants", the "Spanish Refugee Help Association", the "Coordination of Neighbourhoods", "Médicos del Mundo" and the academic Group "Inmigrapenal".
Equally, these NGOs have strong doubts about a recent announcement of the Spanish interior ministry to create asylum offices at the borders. Recently, the Spanish section of "The UN Refugee Agency" did proposed to open these kinds of halls in order to identify possible refugees, similar to the international "transit zones" for asylum seekers that already exist at European airports. However, many migrant and refugee aid organisations reject this plan, since it would only be a temporary solution for a permanent problem: ongoing human rights violations at post-colonial borderlands.
*References
1 Photo by José Palazón: The Moroccan-Spanish border near Melilla (May 2014)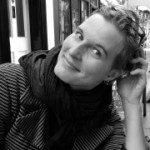 I'm a cultural and social anthropologist doing research on transnational migrant mobility at the margins of EU-Europe. I explore emerging social alliances of solidarity, forms of knowledge and imaginations negotiated between "migrants" and "local nationals" in the Euro-African borderlands from Rabat (Morocco) to Murcia (Spain).




Did you enjoy reading this? Share it with your social network.